110 Copperwood Way Suite M
Oceanside, California
760-522-1805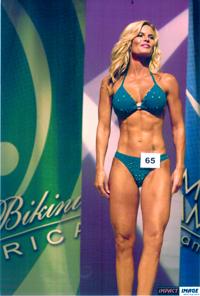 SIMPLY AMAZING! At 41, I accomplished something I never thought was possible! I became so inspired by Coach Berry that I achieved not only getting my health back but went on to enter competitions and won!
click here...
WOW!
Just take a look at Tara, mother of 4 children and a champion.
She looks as healthier and more fit now than before she had children. Age is only a number at Dare to be Fit,
The Fountian of Youth
. See photos before when I was pregnant and read my story by clicking here
http://www.rb-berry.com/he-really-cares-about-people/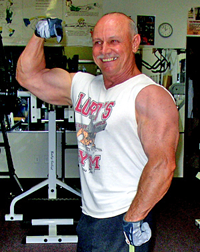 Ron at 61 years, an amazing definition of never growing old. Staying fit is the answer!
Sharene at 64 redefines health and beauty. Don't wait. Get fit and live a vibrant longer
life enjoying playing with your grandchildren rather than rocking in a chair.
CLICK BLACK BUTTON ON RIGHT COLUMN TO GET A
FREE CONSULTATION!
YOU ARE JUST ONE CLICK AWAY FROM BECOMING A BETTER YOU!

HELP LIKE YOU NEVER HAVE HAD BEFORE.
CLICK OR CALL ME AT
(760) 522-1805.
YOUR COACH FOR LIFE!
5 Sneaky Ways to Burn Calories at Work
You may think the 30 minutes you spend every other day in the gym is enough to keep you trim and healthy, but it's not. If you want overall good health, you need to eat well and find windows of exercising opportunity every day—not just during your scheduled workouts.

How can you squeeze in a little exercise when most of your hours are spent sitting at a desk, meeting in the conference room, and preparing for big presentations? Read on to find out when you can squeeze in exercise and how to do it.

1. On the Way to Work. To start your day with a smidgen of calorie-burning exercise, you may need to wake up a few minutes earlier than usual. Not to get in a workout before tossing on your power suit, but rather so you'll have time to torch a few calories on the way to work. To shed some calories before clocking in, you have a number of options depending on your situation. You can bike or walk to work, perform seated calf raises on the bus or train, or park your car at the far end of the parking lot so you get to walk farther to reach your office. And of course, once you get to your building, take the stairs.

2. When Doing Mindless Tasks. Admit it: everything you do at work doesn't require an amazing amount of brainpower. Take advantage of the easy tasks by multitasking with some exercise. The easiest option is to flex and squeeze your body. From your glutes and your abs to your pecs and thighs, you can get rid of a few calories by simply flexing them as you work. As you grow accustomed to the flexing, you may find it to be a great way to work your way through a long, difficult meeting.

3. Every Time You Finish a Task. When you first get to work, make a to-do list. This will help keep you on track and will also set you up for exercise rewards. Each time you cross a task off your list, give yourself an exercise reward. This could be walking a couple laps around the office, standing up and doing a couple quick stretches, or closing your office door and knocking out a dozen push-ups. Know what your reward of the day will be and go for it.

4. When You Need to Communicate. Helpful as email may be, there is a way to communicate with your colleagues that actually keeps your body moving. That way? Getting out of your seat and walking to your coworker's office to talk things through. Have to make a few phone calls? Stand up as you talk or better yet, pace back and forth during the conversation.

5. At the Top of the Hour. A great way to sneak a little calorie burning into your routine is to get up every hour. And your exercising doesn't need to be super intense. All you need to do is stand up. Do this for five minutes, eight times a day, and you will drop 100 calories a day. That's right—all you have to do to stand up for your health is stand up!

All of these bonus calorie burning tips are great – when done in conjunction with a consistent, challenging exercise program. If you aren't yet one of my valued clients then now is the time to join in – call or email today to get started!
Your Body
Your Health
Your Life
Your Diet
Avoid the Burn
Want a foolproof way to keep extra calories away? Don't eat them in the first place. With a little self-discipline, you can avoid eating lots of useless calories, which helps your sneaky calorie-burning exercises have even more impact!
Seasoned Ahi Steak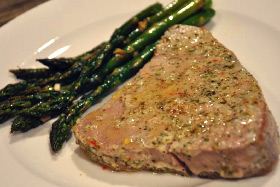 Ahi tuna is high in protein and low in fat, the perfect combination for building a lean, toned body. Add a side of roasted asparagus for a delicious healthy meal.
Servings: 4
Here's what you need…
1 Tablespoon olive oil
¼ cup lemon juice
4 cloves garlic, minced
1 teaspoon red chili flakes
2 Tablespoons cilantro, minced
dash of salt and pepper
4 (6oz) ahi tuna steaks
In a large re-sealable plastic bag combine the first six ingredients; mix well.
Add tuna to the marinade, cover and refrigerate for 1-1/2 hours, turning once. Drain and discard marinade. Preheat oven to 425 degrees F.
Place the tuna in a glass pan. Bake for 10 minutes. Turn the steaks and bake for another 10 minutes or until fish flakes easily with a fork.
Nutritional Analysis:
One serving equals: 312 calories, 10g fat, .6g carbohydrate, .2g fiber, and 50g protein.
Motivate your friends, family and co-workers!
Use the "refer a friend" link below to forward this newsletter and subscribe your friends.